Indianapolis was the single, largest user of Maxim apparatus. Over the years, IFD owned 52 Maxim rigs. As of November 1972,
IFD's Maxim fleet included: 34 pumpers, 6 aerials, 5 city service ladder trucks, 1 snorkel and 5 reserve pumpers!

Station No.5 1950's

Back Home Again In Indiana !

Firemans Chore, Owner of this original Indianapolis Fire Department 1955 Maxim J Pumper Engine Co.No.5

Member of The Indiana Chapter of SPAAMFAA

Not bad for 52 years old!

Still has the IFD door sticker & the Farr air cleaner box from when they installed new diesel engine.
Found in IL. 2006 on ebay of all places
History & Timeline Engine #5
* Date of Purchase December 31, 1954
* Date of Delivery September 23rd, 1955 in Indianapolis, IN
* In Service Date Oct. 3, 1955
* 1955 Cost $17,057.ºº
*2009 Refurb Cost $15,000.ºº
* Serial Number 2016
* Model Number 26010 S
* Motor Waukeshaw 145GKB (Gas Original)
* 1970's New Detroit Diesel 6-71 Engine Installed (IFD Shops)
* Capacity 1000 GPM, Single stage
* In service as Engine 5, 126 W. 15th St. on October 3 1955
* In service as Engine 22, 2357 Carrollton on July 6th. 1969 and then moved to there new station at 3019 Martindale Ave August 31, 1972
* In service as Engine 18, 3130 West Washington St. January 1976
* To the Shop as Reserve Engine 8 on March 23rd., 1979
* Sold at Indianapolis auction 1986
* Purchased by Henderson Vol. F.D., Henderson, Arkansas until August 19, 1994
* Purchased by Private Owner in IL. 1994 - 2006
* Purchased by Firemans Chore October 15, 2006
* Sold to Private Owner, Indianapolis September 2022
Below are some pictures of what she look's like now after getting rid of the original split steel rims do to rust and updated to 22.5 Alcoa's with new radial tires. We have also updated some of the lights to LED and a Mars 888 light on the left fender. Hose & nozzles has been added to the bed to give her that loaded look. As of Jan. 09, we have started a restoration and will show the progress in the below photo's.
Click on the link below for slideshow of our restoration
s387.photobucket.com/albums/oo317/firemanschore/Maxim%20Engine/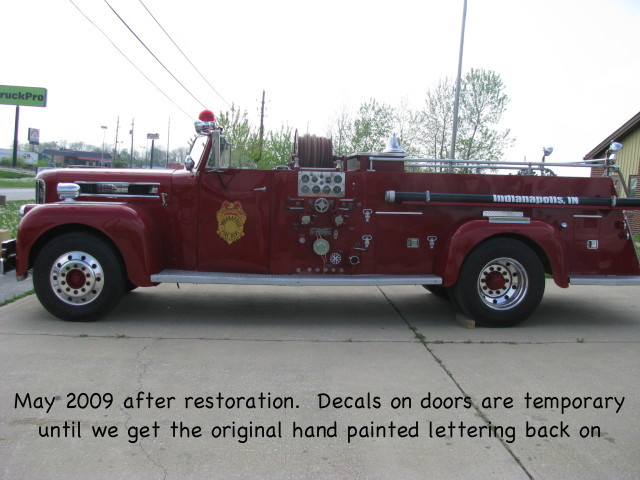 Other great sites for Maxim rig's